Resin Flooring Systems
Designed to give the right balance of performance and cost for your floor.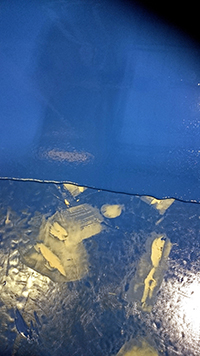 Epoxy systems come in a wide variety of possible finishes and can be tailored to fit the needs of your working environment. As a general rule the greater the thickness applied, the longer it lasts and the more it costs but we will always try to provide a system to give you best value for money based on your particular requirements.
The most economical systems will be based around two coats of high-build epoxy to give an overall film build of around 0.5mm, often with a light slip resistant scatter.
The next step up would be a self smoothing epoxy screed normally applied at between 1 and 2mm for areas of higher wear or where cleaning is of utmost importance such as pharmaceutical applications.
Commonly these two are often combined to give a very durable non-slip finish for automotive, manufacturing or high traffic warehouse applications. In order to give a good balance between slip resistance and cleanability we often install self smoothing screeds with textured epoxy coatings as the final finish.